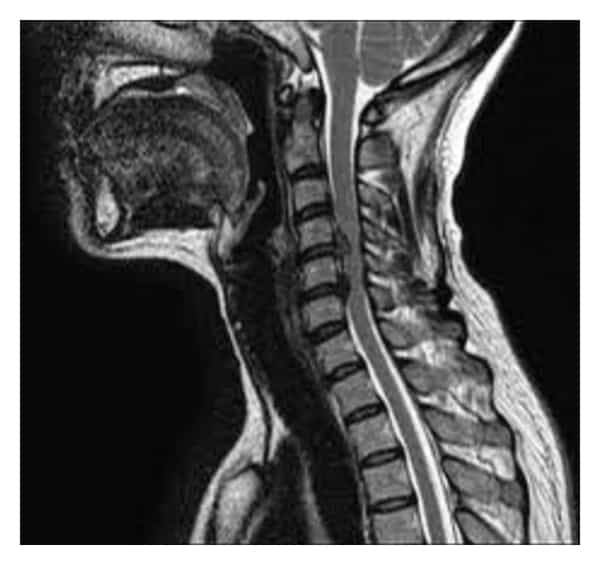 Cervical myelopathy
Cervical myelopathy is a term for nerve impaction in the neck.
Myelopathy denotes an injury or disease of the spinal cord, and the cervical indicates that we are talking about one of the seven neck vertebrae (C1-C7).
The symptoms will vary depending on where the marginal infection is located. Cervical myelopia occurs when we have a narrowing (stenosis) of the spinal canal that leads to spinal dysfunction - this is normally due to congenital stenosis or degenerative stenosis.
The latter is then due to spondylosis, and the condition is often called cervical spondylotic myelopathy, shortened to CSM. If you know that you have tight nerve conditions in the neck then you need to take it seriously and start working with functional and strengthening training already today. It is very important to limit further deterioration.
Here are two great training videos with suggestions for exercises that can help you strengthen your neck and shoulders.
VIDEO: 5 Clothes Exercises Against Stiff Neck
A more movable neck may involve improved muscular function and increased blood circulation. This in turn can relieve tense muscles and reduce neck pain. Click below to see the exercises.

Join our family and subscribe to our YouTube channel for free exercise tips, exercise programs and health knowledge. Welcome!
VIDEO: Strength Exercises for the Shoulders with Elastic
To strengthen the neck, you also need to strengthen the shoulders and shoulder blades. These are the platform for good neck function and correct neck posture. Weak, rounded shoulders will in fact cause the neck position to move forward - and thus put increased pressure on the spinal cord inside the neck spinal canal itself. The exercise program should be performed two to four times a week for best effect.
Did you enjoy the videos? If you took advantage of them, we would really appreciate you subscribing to our YouTube channel and giving us a thumbs up on social media. It means a lot to us. Thank you very much!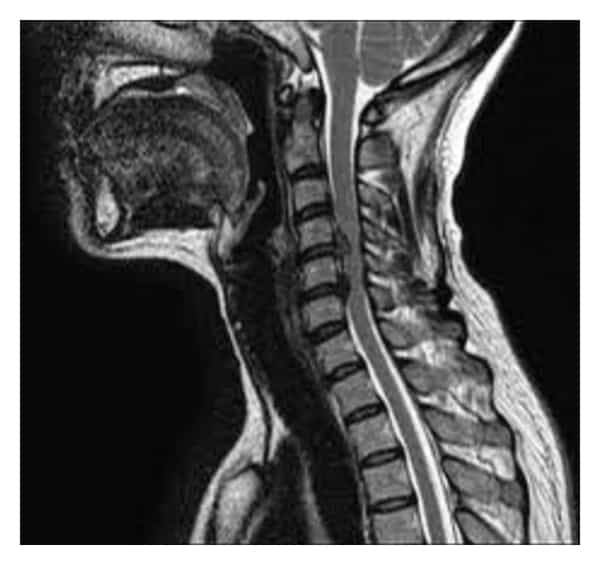 Description of the MRI image showing an example of cervical spondylotic myelopathy: In the picture we can see a cervical compression caused by pressure from an intervertebral disc.
Cause of Cervical Spondylotic Myelopathy
The purely physical cause of cervical myelopathy is compression of the spinal cord. The normal diameter of spinal canal in the neck vertebrae, also known as intervertebral foramina (IVF) should lie on 17 - 18 mm.
When compressed to narrower than 14 mm, myelopathic symptoms will develop. the the spinal cord in the neck is an average of 10 mmand it is when this spinal cord gets too little space in the spinal canal that we get myelopathic symptoms.
Symptoms of cervical spondylotic myelopathy
Characteristic symptoms of cervical myelopathy involve poor coordination, impaired fine motor skills, weakness, numbness and occasional paralysis. Pain is often a symptom, but it is important to remember that there is not necessarily pain in CSM - which often leads to a slower diagnosis. In elderly patients, a degeneration of gait and hand function is often seen.
It is important to remember that although cervical myelopathy is a condition that affects the neck, it can cause both upper and lower motor neuron findings.
Common findings in clinical trial
Patients with CSM usually have upper motor neuron symptoms, but may also have lower motor neuron symptoms.
Weakness: Most often more evident in the arms.
gait: Normally stoked, wide walk.
Hypertension: Increased muscle tone even with passive movement.
hyperreflexia: Increased deep lateral flexes.
Ankle clonus: Passive dorsiflexion of the ankle can cause clonus movements in the ankle.
Babinski characters: Extension of the big toe when testing the sole of the foot with a specific Babinski test.
Hoffman's reflex: Flicking of the external finger joints on the middle finger or ring finger gives flexion in the thumb or forefinger.
Finger escape sign: The little finger spontaneously goes into abduction due to weak intrinsic muscles in the hand.
Cervical spondylotic myelopathy is a progressive condition
CSM is a progressive, degenerative condition that will gradually worsen. Surgery may be necessary if the condition worsens so that the pressure on the spinal cord becomes too great. An operation may involve fusion or stiffening.
This is exactly why it is so important to work actively to strengthen the neck and associated support structures (shoulders and upper back).
What can I do even for muscle and joint pain?
1. General exercise, specific exercise, stretching and activity are recommended, but stay within the pain limit. Two walks a day of 20-40 minutes make good for the whole body and sore muscles.
2. Trigger point / massage balls we strongly recommend - they come in different sizes so you can hit well even on all parts of the body. There is no better self help than this! We recommend the following (click the image below) - which is a complete set of 5 trigger point / massage balls in different sizes:
3. Training: Specific training with training tricks of various opponents (such as this complete set of 6 knits of different resistance) can help you train strength and function. Knit training often involves more specific training, which in turn can lead to more effective injury prevention and pain reduction.
4. Pain Relief - Cooling: Biofreeze is a natural product that can relieve pain by cooling the area gently. Cooling is especially recommended when the pain is very severe. When they have calmed down then heat treatment is recommended - it is therefore advisable to have both cooling and heating available.
5. Pain Relief - Heating: Warming up tight muscles can increase blood circulation and reduce pain. We recommend the following reusable hot / cold gasket (click here to read more about it) - which can be used both for cooling (can be frozen) and for heating (can be heated in the microwave).
Recommended products for pain relief for muscle and joint pain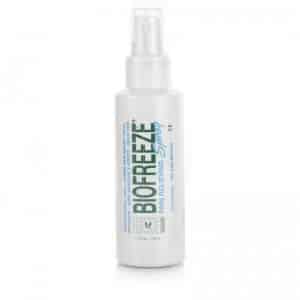 Biofreeze (Cold / cryotherapy)
Recommended deep dive studies:
1. Payne EE, Spillane J. The cervical spine; an anatomico-pathological study of 70 specimens (using a special technique) with particular reference to the problem of cervical spondylosis. Brain 1957; 80: 571-96.
2. Bernhardt M, Hynes RA, Blume HW, White AA 3rd. Cervical spondylotic myelopathy. J Bone Joint Surg [Am] 1993; 75-A: 119-28.
3. Conaty JP, Mongan ES. Cervical fusion in rheumatoid arthritis. J Bone Joint Surg [Am] 1981; 63-A: 1218-27.
4. Goel A, Laheri V. Re: Harms J, Melcher P. Posterior C1-C2 fusion with polyaxial screw and rod fixation. spine2002; 27: 1589-90.
5. Irvine DH, Foster JB, Newell DJ, Klukvin BN. Prevalence of cervical spondylosis in a general practice. Lancet1965; 14: 1089-92.
6. Among JH. Rheumatoid arthritis of the cervical spine. J Rheumatol 1974; 1: 319-42.
7. Woiciechowsky C, Thomale UW, Kroppenstedt SN. Degenerative spondylolisthesis of the cervical spine: symptoms and surgical strategies depending on disease progression. Eur Spine J 2004; 13: 680-4.
8. Eismont FJ, Clifford S, Goldberg M, Green B. Cervical sagittal canal size in spinal injury. spine 1984; 9: 663-6.
9. Epstein N. Ossification of the cervical posterior longitudinal ligament: a review. Neurosurg Focus 2002; 13: ECP1.
10. Nurick S. The pathogenesis of spinal cord disorder associated with cervical spondylosis. Brain 1972; 95: 87-100
11. Ranawat CS, O'Leary P, Pellicci P, et al. Cervical spine fusion in rheumatoid arthritis. J Bone Joint Surg [Am]1979; 61-A: 1003-10.
12. Pressman BD, Mink JH, Turner RM, Rothman BJ. Low-dose metrizamide spinal computed tomography in outpatients. J Comput Assist Tomogr 1987; 10: 817-21.
13. Lin EL, Lieu V, Halevi L, Shamie AN, Wang JC. Cervical steroid injections for symptomatic disc herniations. J Spinal Disord Tech 2006; 19: 183-6.
14. Scardino FB, Rocha LP, Barcelos ACES, Rotta JM, Botelho RV. Is there a benefit to operating on patients (bedridden or in wheelchairs) with advanced stage cervical spondylotic myelopathy? Eur Spine J 2010; 19: 699-705.
15. Gallie WE. Fractures and dislocations of the cervical spine. Am J Surg 1939; 46: 495-9.
16. Brooks AL, Jenkins EB. Atlanto-axial arthrodesis by the wedge compression method. J Bone Joint Surg [Am]1978; 60-A: 279-84.
17. Grob D. Atlantoaxial screw fixation (Magerl's technique). Rev Ortp Traumatol 2008; 52: 243-9.
18. Harms J, Melcher RP. Posterior C1 – C2 fusion with poly-axial screw and rod fixation. Spine (Phila Pa 1976)2001; 26: 2467-71.
19. Wright NM. Posterior C2 fixation using bilateral, crossing C2 laminar screws: case series and technical note. J Spinal Disord Tech 2004; 17: 158-62.
20. Southwick WO, Robinson RA. Surgical approaches to the vertebral bodies in the cervical and lumbar regions. J Bone and Joint Surg [Am] 1957; 39-A: 631-44.
21. Williams KE, Paul R, Dewan Y. Functional outcome of corpectomy in cervical spondylotic myelopathy. Indian J Orthop 2009; 43: 205-9.
22. Wu JC, Liu L, Chen YC, et al. Ossification of the posterior longitudinal ligament in the cervical spine: an 11-year comprehensive national epidemiological study. Neurosurg Focus 2011; 30: E5
23. Dimar JR II, Bratcher KR, Brock DC, et al. Instrumented open-door laminoplasty as treatment for cervical myelopathy in 104 patients. Am J Orthop 2009; 38: 123-8.
24. Matsuda Y, Shibata T, Oki S, et al. Outcomes of surgical treatment for cervical myelopathy in patients more than 75 years of age. spine 1999; 24: 529-34.