Neck pain and neck pain can affect anyone and everyone. Neck pain and pain in the neck can affect ability to work and quality of life - and dysfunction in the neck can also cause neck-related headaches and dizziness. Here you will find good help. Pain in the neck is a nuisance that affects up to 50% of the Norwegian population every year, according to figures from the NHI.
Due to dysergonomic working conditions and more and more time spent on PCs, tablets and smartphones - which in turn leads to less physical activity - it can be speculated whether these numbers will increase over the years and become an even bigger societal problem (something that has actually become since this article first published!).
The article also shows you exercises and "acute measures" if the neck has gone completely into "deadlock". Feel free to contact us on Facebook if you have any questions or input. We also thank everyone who shares this article in social media in advance.
Scroll below for to see more training videos to help you with your neck pain.
VIDEO: 5 Clothes Exercises against Stiff Neck and Neck Pain
Tense and painful neck muscles? These five exercise and stretching exercises can help you loosen up deep-seated muscle knots in your neck and give you better neck movement. Click below to see the exercises.

Join our family and subscribe to our YouTube channel for free exercise tips, exercise programs and health knowledge. Welcome!
VIDEO: Strength Exercises for the Shoulders with Elastic
Elastic training can be an excellent way to get better functionality between the shoulder blades and in the neck region. By getting stronger in the shoulders and shoulder blade muscles, you can prevent your neck muscles from being overloaded in a stressful everyday life. The exercise program should be performed two to four times a week for best effect.
Did you enjoy the videos? If you took advantage of them, we would really appreciate you subscribing to our YouTube channel and giving us a thumbs up on social media. It means a lot to us. Thank you very much!
Also read: - How to Relieve Muscle Tension in the Neck and Shoulder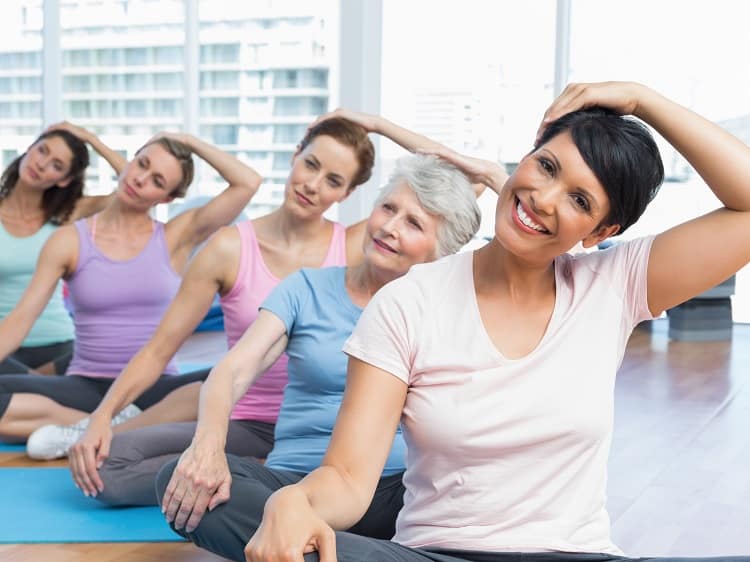 What can I do even for neck pain?
1. General exercise, specific exercise and activity are recommended, but stay within the pain limit. Two walks a day of 20-40 minutes make good for the body and aching muscles.
2. Trigger point / massage balls we strongly recommend - especially since the majority of neck pain is due to dysfunction of the muscles and joints. They are available in different sizes so you can hit well even on all parts of the body. There is no better self help than this! We recommend the following (click the image below) - which is a complete set of 5 trigger point / massage balls in different sizes:
3. Training: Specific training with training tricks of various opponents (such as this complete set of 6 knits of different resistance) can help you train strength and function. Knit training often involves more specific training, which in turn can lead to more effective injury prevention and pain reduction.
4. Pain Relief - Cooling: Biofreeze is a natural product that can relieve pain by cooling the area gently. Cooling is especially recommended when the pain is very severe. When they have calmed down then heat treatment is recommended - it is therefore advisable to have both cooling and heating available.
5. Pain Relief - Heating: Warming up tight muscles can increase blood circulation and reduce pain. We recommend the following reusable hot / cold gasket (click here to read more about it) - which can be used both for cooling (can be frozen) and for heating (can be heated in the microwave).
Recommended products for pain relief in pain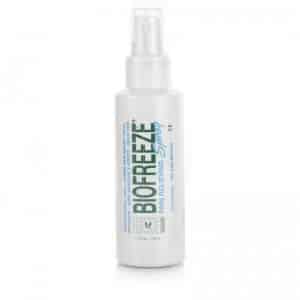 Biofreeze (Cold / cryotherapy)
Get the Neck Pain Examined and Investigated
Don't let neck pain become part of your everyday life. Regardless of your situation, even if it is one with heavy physical work from a young age or a lot of sedentary office work, it is the case that the neck can always achieve better function than it is today.
Our first recommendation for neck pain is to seek out one of the three occupational groups that are publicly authorized through the health authorities:
chiropractor
manual therapist
Physical therapist
Their public health authorization is a result of the authority's recognition of their comprehensive education and is a security for you as a patient and entails, among other things, several special benefits - such as protection through Norwegian Patient Injury Compensation (NPE).
It is a natural security to know that these occupational groups are registered in this scheme for patients - and, as mentioned, we recommend investigating / treating occupational groups with this associated scheme.
The first two occupational groups (chiropractor and manual therapist) also have referral rights (to imaging diagnostics such as X-ray, MRI and CT - or referral to a rheumatologist or neurologist when needed for such an examination) and sick leave (may report sick leave if deemed necessary).
Keywords for improved neck health involve more proper stress in everyday life (ergonomic fit), generally more movement and less static sitting, as well as increased focus on regular exercise.
Common causes of neck pain
The most common cause of neck pain is a combination of dysfunction in muscles and joints. This can involve tight, sore muscles (often called myalgias or muscle knots), as well as facet joint locks (often called 'locks' in the vernacular) in affected joint areas.
Malfunctions over time or sudden overload can result in reduced movement and pain.
Muscle knots and dysfunctional muscles never occur alone, but are almost always part of the problem - this is because muscles and joints can not move independently of each other. So it is never "just muscular" - there are always several factors that make you have back pain.
Therefore, it is very important to examine and treat both muscles and joints to achieve normal movement pattern and function.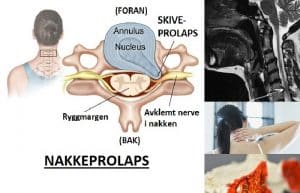 Possible causes and causes of neck pain
Bad attitude
Poor sleep (do you need a new pillow?)
Unilateral load over time
Wrong pillows
Too little exercise and movement in everyday life
Static posture or lifestyle
Possible diagnoses of neck pain
Here is a list of possible functional and medical diagnoses that can cause neck pain.
Acute torticollis (when you wake up with a sore throat in a locked position)
Arteria carotid dissection (tearing of the carotid artery)
Arthritis (Arthritis)
Osteoarthritis (joint wear and degenerative changes)
Bechterew's disease (Ankylosing spondylitis)
Inflammation of the neck (Neck Inflammation)
Carotidynia (inflammation of the carotid artery)
Cervical spondylosis
meningitis
Subarachnoid hemorrhage
Swollen lymph nodes
Infection
Carotid stenosis (Dense carotid artery)
Kink in the Neck (Neck Kink)
Kissing Diseases (Mononucleosis)
Joint locking in the neck (can occur in all cervical joints from C1 to C7)
Joint Wear
lymphadenitis
Congenital extra cervical rib
Between Vortex Damage
Migraine (migraines can also cause neck pain)
muscle Knots / myalgia of the neck:
Active trigger points will cause pain all the time from the muscle (eg musculus levator scapulae myalgi)
Latent trigger points provides pain through pressure, activity and strain
Muscle spasm in the neck
neck Fracture
neck Cancer
Nakkemyalgi
Neck injury
Neck slash / whiplash
neck Capes
Neuralgia in the neck
Prolapse in the neck (can cause referred pain depending on which nerve root is affected)
Rubella (Red Dogs)
Tendonitis in the neck (neck tendinitis)
Tendon injury in the neck
Spinal stenosis of the neck
3 different categories of neck pain
Pain in the neck can mainly be divided into 3 categories.
1. Neck pain without radiation
The most common cause of neck pain is mechanical loads, joints and tension in the muscles. These usually occur together, so it is important to treat both joints and muscles to get the best results in terms of symptomatic relief and functional improvement.
This can help your chiropractor. This type of muscle tension and dysfunction can cause so-called cervicogenic headaches, ie headaches that arise from structures in the neck.
These are again usually divided into acute neck pain and chronic neck pain:
Acute neck pain
An acute neck kink may appear as if it occurs without any specific cause or direct injury. But the truth is that the sudden neck jerk is caused by long-term causes and malformations of the neck muscles and joints.
- Tension due to stress, intense concentration over time, irritation, noise, poor lighting conditions
- Do you need (new) glasses? If you strain your eyes, you will automatically tense your neck muscles
- Unfavorable working positions
- Static and one-sided work (do you sit in front of a PC a lot?)
- Traits; especially from one side affects temperature-sensitive muscles, eg drivers with open windows
- Wrong lying position, sleeping on the sofa and / or sleeping only on one side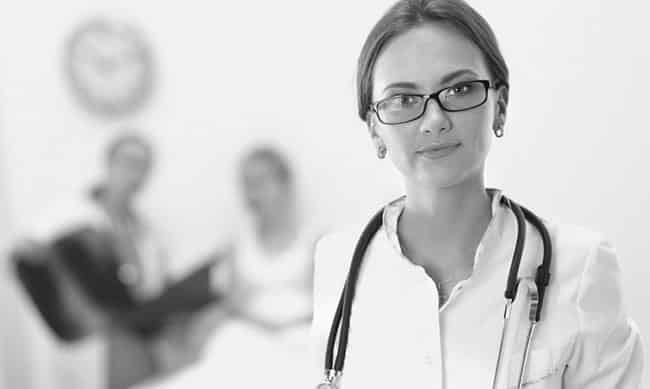 Common symptoms of acute neck crunch:
- The neck locks suddenly and becomes stiff and painful
- Wake up with a kink in the morning
- Pain is often located at a specific point in the neck
- Keep your head tilted to avoid the pain
- Difficult to turn your head or look to the side, without turning your whole body at the same time
- The pain can be intense, impossible to lift the head or lower the head towards the chest without helping with the arms
- The pain usually worsens during the first 1-2 days, and then gradually gets better
- Some recover quickly, in others the stiffness can persist for weeks and months, and then come back again
Neck injuries occur when the neck is exposed to an external force or accident, common injury mechanisms are neck injury after a collision from the rear, fall and sports injuries, head or face impact, etc.
Other commonly reported symptoms and pain presentations of neck pain:
- Deafness in the neck
- Burning in the neck
- Deep pain in the neck
- Electric shock to the neck
- Hogging in the neck
- Clicking / clicking sound in the neck
- Knot in the neck
- Cramps in the neck
- Locked in the neck
- Ant in the neck
- Murmur in the neck
- The numbness in the neck
- Shake your neck
- Skewed neck
- Tired in the neck
- Stinging in the neck
- Stolen in the neck
- Sores in the neck
- Pain in the neck
- Sore neck
Related Exercises: - Less neck pain with these 5 good exercises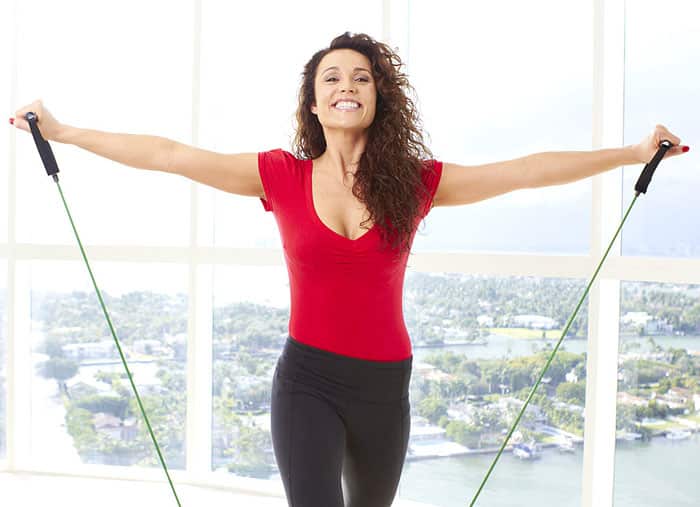 Chronic neck pain
If the neck pain persists for more than 3 months, the pain is called chronic. Chronic pain after neck injury is common. Many are naturally scared to move their neck after an injury, and slip into a vicious circle with a stiff and unnatural pattern of movement to avoid pain. This is also why long-term use of neck collars is not recommended after acute neck injuries.
An injury can develop into a complex pain picture:
- Neck pain
- Pain between the shoulder blades
- Back pain
Radiating pain to shoulder and arm
Tingling and numbness in arms and fingers
- Dizziness
- Headache
- Facial pain
- Decreased concentration
- Increased fatigue and sleep disorders
Radiation neck pain
The two most common causes of neck pain with radiation in younger patients (<40 years) are so-called cervical prolapse and sports injuries.
In elderly patients (> 40 years), the chance of cervical prolapse is less, due to the soft mass (nucleus palposus) in the intervertebral disc stiffening with age, which leads to a lower chance of the gelatinous mass bulging out. the wall of the diaphragm.
A larger bend, where the wall around this mass begins to yield is referred to as a prolapse.
It is when this deflection results in pressure on a nearby nerve root that we may experience pain or symptoms (eg tingling, decreased hands, etc.) in one or both arms. The nerve root most commonly affected in cervical prolapse is C7.
It should also be mentioned that tight muscles near the brachial plexus can cause this kind of symptoms, but then normally to a lesser extent.
In case of a cervical prolapse, your chiropractor will help you remove the pressure on the affected nerve, through so-called traction techniques. This can help to centralize the pain and prevent the neurological condition from deteriorating due to constant pressure on the nerve. In the acute phase of this condition cryotherapy is also used to limit further inflammation and irritation around the nerve root, and ergonomic advice will also be given with regard to what neck loads should be avoided at this stage.
Muscle work will also be used in the form of stretching, trigger point therapy, as well as training and home exercises when the acute phase is over.
Neck slash / whiplash
A so-called neck slump can occur in traffic accidents, falls or sports injuries. The cause of whiplash is the rapid cervical acceleration followed by an immediate deceleration.
This means that the neck does not have time to 'defend' and thus this mechanism where the head is thrown backwards and forwards can lead to damage to muscles, ligaments and tendons inside the neck.
If you experience neurological symptoms after such an accident (eg pain in the arms or a feeling of reduced force in the arms), seek medical attention immediately.
A study called The Quebec Task Force has categorized whiplash into 5 categories:
· Grade 0: no neck pain, stiffness, or any physical signs are noticed
· Grade 1: neck complaints of pain, stiffness or tenderness only but no physical signs are noted by the examining physician.
· Grade 2: neck complaints and the examining physician finds decreased range of motion and point tenderness in the neck.
· Grade 3: neck complaints plus neurological signs such as decreased deep tendon reflexes, weakness and sensory deficits.
· Grade 4: neck complaints and fracture or dislocation, or injury to the spinal cord.
It is mainly those who fall within grades 1-2 that have the best results with manual treatment. Grades 3-4 can, in the worst case scenario, lead to permanent injuries, so it is important that a person who has been in a neck injury get an immediate check by ambulance personnel or an emergency room consultation.
How to prevent sore throat?
There are several measures that can help you prevent neck pain - including:
Don't sit in the cold.
Regular movement leads to better blood circulation and reduced muscle tension.
Seek out physical treatment and get help with neck pain.
Perform stretching and strength exercises regularly.
MR image of the neck
- Normal variant of MRI image of the neck (cervical columnalis), sagittal variant, T2 weighted.
Explanation of MR image: Here we see another image showing the different cervical levels (C1-C7), spines (spinosi, spinous process), spinal cord and intervertebral disc.
VIDEO: MR Cervical Columna (MRI of the neck):
Description of this MR image: We see a height-reduced disc C6 / 7 with focal disc bulge to the right which gives somewhat narrow conditions in neurophoramines and potential nerve root affection. Minimal disc bends also from C3 to C6, but no affection of nerve roots in these levels. Otherwise plenty of space in the spinal canal. No myelopathy.
When the neck causes arm pain: Cervicobrachialgi
When the nerve roots at the bottom of the neck become pinched as a result of tight muscles / myalgias, impaired joint function, disc prolapse and / or calcifications after changes in wear, intense pain can occur in the arm in the same way as you can get sciatica in the lower back. This is called cervicobrachialgi.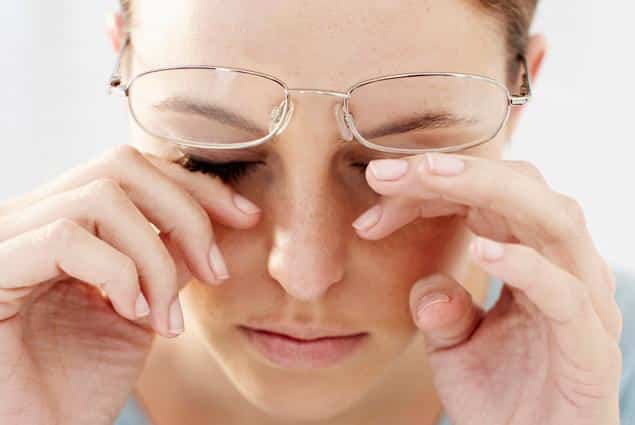 A form of headache that is often caused by latches in the top of the neck, which cause headaches, neck pain and tight muscles at the top of the neck.
Manual treatment: Clinically proven effect on neck pain relief
Chiropractic treatment, consisting of neck mobilization / manipulation and specific home exercises, has a clinically proven effect on the relief of neck pain. A recent study published in the renowned journal Annals of Internal Medicine (Bronfort et al, 2012) found that this form of treatment had a documented better effect compared to medical treatment in the form of NSAIDs (Non-steroidal anti-inflammatory drugs) (2).
Conservative treatment of neck pain
Conservative treatment means safer treatment - this usually consists of physical treatment in various forms, e.g. muscular therapy and joint therapy. But there are also many other treatment modalities that are used.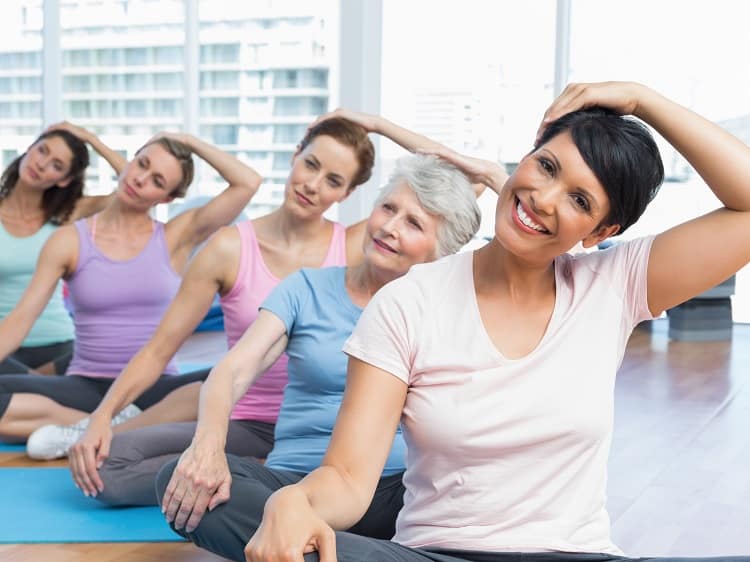 Manual treatment of neck pain
As mentioned earlier, both chiropractor and manual therapist are the occupational groups with the longest education and public authorization from the health authorities - which is why these therapists (including physiotherapists) often see the majority of patients with muscle and joint ailments.
The main goal of all manual therapy is to reduce pain, promote overall health and improve quality of life by restoring normal functioning of the musculoskeletal system and nervous system.
In case of neck pain, the clinician will both treat the neck locally to reduce pain, reduce irritation and increase blood supply, as well as restore normal movement in areas affected by joint dysfunction - this can be e.g. thoracic spine, neck, shoulder blade and shoulder joint. When choosing a treatment strategy for the individual patient, the publicly authorized clinician places emphasis on seeing the patient in a holistic context.
If there is suspicion that the neck pain is due to other illness, you will be referred for further examination.
Manual treatment (from a chiropractor or manual therapist) consists of a number of treatment methods where the therapist mainly uses the hands to restore normal function in joints, muscles, connective tissue and nervous system:


- Specific joint treatment
- Stretches
- Muscular techniques
- Neurological techniques
- Stabilizing exercise
- Exercises, advice and guidance
What does a chiropractor or manual therapist do?
Muscle, joint and nerve pain: These are things that a chiropractor or manual therapist can help prevent and treat. Chiropractic / manual therapy is mainly about restoring movement and joint function that may be impaired by mechanical pain.
This is done by so-called joint correction or manipulation techniques, as well as joint mobilization, stretching techniques, and muscular work (such as trigger point therapy and deep soft tissue work) on the involved muscles. With increased function and less pain, it may be easier for individuals to engage in physical activity, which in turn will have a positive effect on both energy and health.
Exercises, training and ergonomic considerations for neck pain
An expert in muscle and skeletal disorders can, based on your diagnosis, inform you of the ergonomic considerations you need to take to prevent further damage, thus ensuring the fastest possible healing time.
After the acute part of the pain is over, in most cases you will also be assigned home exercises that also help to reduce the chance of relapse. In the case of chronic ailments, it is necessary to go through the motor movements you do in everyday life, so as to be able to weed out the cause of your pain occurring time and again.
- Here you will find an overview and list of exercises we have published in connection with counteracting, prevention and relief of neck pain, neck pain, kink in the neck, neck prolapse, whiplash / neck sprain and other relevant diagnoses.
Overview: Exercise and exercises for neck pain and neck pain
Also Read: 4 Customized Exercises for You with Whiplash / Neck Slang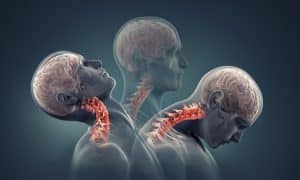 4 Tightening exercises against Stiff neck
4 Yoga Exercises for Neck Pain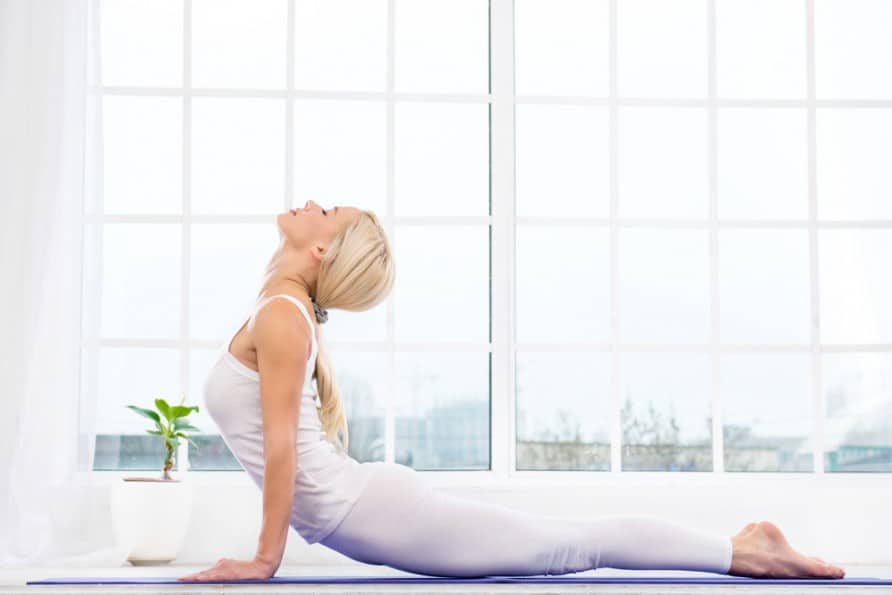 5 Customized Exercises For You With Neck Prolapse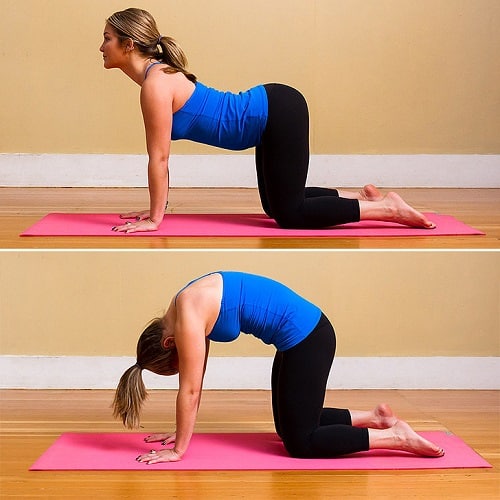 Recommended products for effective training
Mini-bands: Set of 6 pieces of knitwear in different strengths.
Also read:
- Stomach ache? You should know this about abdominal pain.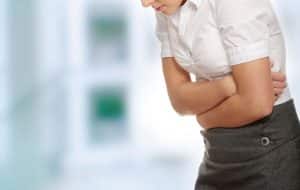 References:
NHI - Norwegian Health Informatics.
Bronfort et al. Spinal Manipulation, Medication, or Home Exercise With Advice for Acute and Subacute Neck Pain. A Randomized Trial. Annals of Internal Medicine. January 3, 2012, vol. 156 no. 1 Part 1 1-10.
Livingston. Quebec Task Force's whiplash study. Spine. 1999 Jan 1; 24 (1): 99-100. Web: http://www.ncbi.nlm.nih.gov/pubmed/9921601
Punnett, L. et al. A Conceptual Framework for Integrating Workplace Health Promotion and Occupational Ergonomics Programs. Public Health Rep. , 2009; 124 (Suppl 1): 16–25.
Frequently asked questions about neck pain
Got sore in c3 after fall. Why do I hurt there?
Pain in the third cervical joint (neck joint) on the right, left or both sides may be due to dysfunction in nearby cleft palate («lock«) And musculature (myös) - often it is a combination of this that hurts in C3.
The neck is divided into 7 main joints, from the top C1, further down to C2, C3, C4, C5, C6 and all the way down to the lower cervical vertebra, C7. When you fall, there may be a sling in the neck that can trigger the body's own defense system where you see a sudden tightening of muscles and bracing of exposed joints - this is to prevent damage to more delicate structures such as nerves and intervertebral discs (the soft plates in between the vortices).
Unfortunately, the body does not have an "off button" to cancel this reaction, and we thus often see that the pain can persist for days or weeks after the actual fall. To shorten the convalescence period, it may be relevant with joint treatment, muscular treatment, general movement and stretching exercises.
Has calcification in the neck. What should I do?
Calcification in the neck normally involves normal wear and tear and bone deposits. What you should do depends on how widespread the calcifications are - and whether they also form a pressure against, for example, the spinal canal (this is called cervical spinal stenosis).
On a general basis, training and exercises are recommended, but we also recommend that you consult a clinician to assess your pain / diagnosis and that they set up the best course of treatment for you further.
Our recommendation will probably be against exercise / exercises combined with physical treatment and custom joint treatment performed by a public health clinic.
Has pain and pain in the neck on the left side. What could be a possible diagnosis?
Neck pain is often composed of several factors that contain both a muscular and a joint component. This is probably the case in your presentation as well, so a possible diagnosis would be left-sided neck pain / symptoms with associated cervical myalgia (neck muscle dysfunction).
Other possible diagnoses are neck kink and acute torticollis - to name a few. It will be possible to say more specifically about what it can be if you tell us if you feel that it sits e.g. more in the upper part of the neck, middle part of the neck or lower part of the neck - in this way we can give you the best possible advice and further measures.
What is bulging in the neck?
When talking about bulging, this is usually in connection with talk about the intervertebral discs, the soft structures between the vertebrae.
The soft part of these intervertebral discs can bulge outwards, hence bulging. Disc bulge is not the same as disc prolapse - when we talk about prolapse, it is an actual penetration of the soft mass (nucleus pulposus) through the wall around it (annulus fibrosus).
How to relieve the pain of someone with neck prolapse?
To alleviate the pain of someone with a neck prolapse, one must first know what one has to do, ie where the prolapse is located and what nerve root it is pushing.
A musculoskeletal expert (chiropractor or manual therapist) can help you with a clinical examination, as well as refer to an imaging diagnosis to get a picture of how the prolapse squeezes the nerve. Such an expert will also be able to provide you with customized exercises, ergonomic relief, traction therapy and soft tissue work that can all help relieve the pain of prolapse.
An important thing is that you get this investigated quickly and are informed about what you can do yourself by stretching, specific training and what you can get from treatment. For more passive measures, latex pillow is recommended (read: Head pillow to avoid neck pain?). Feel free to ask more questions in the comments section below.
Has hurt in the upper part of the neck against the head. What could be the cause?
Pain in the upper part of the neck towards the head, on the left, right or both sides can have several causes. Fortunately, the most common cause tight neck muscles (myalgia / myosis - preferably in suboccipitalis) and upper back muscles (upper trapezius og levator scapulae) combined with joint restrictions (popularly called 'paragraph locking') in the upper neck joints (preferably C1, C2 and C3 joints which have reduced mobility.
A combination of joint treatment, muscular treatment and adapted training with both strength and stretching is the best medicine for such ailments - that way you can keep the ailments away. Read more about pain in the upper part of the neck and back of the head here (in Danish).
I live in Dal (close to Gardermoen) and want a recommendation for a manual therapist (chiropractor, manual therapist or physiotherapist) in my area. Who would you recommend?
With millions of readers a year, we at Vondt.net receive daily inquiries where people ask for recommendations and which professional group to choose when seeking treatment for problems in the muscles, nerves and joints - when we provide these recommendations we base ourselves on four criteria :
Evidence-based: Is the clinic and clinic based on recent research in the treatment of joint and muscle diagnoses?
Modern: Does the treatment address both cause and symptoms in a holistic way - with treatment of both muscles and joints, as well as customized exercise exercises for the individual?
interdisciplinary: Does the clinician and clinic use referrals to experts in imaging, rehabilitation and specialist assessment? Or are they the old dinosaur school with its own x-ray in the back room?
patient safety: Does the clinic take good time for a thorough examination and treatment? Or is it just a 5 minute treatment set up per patient?
Our recommendation in your areas within physical treatment, interdisciplinary, chiropractic treatment / chiropractic and assessment is Råholt Chiropractor Center and Physiotherapy - an evidence-based, modern, interdisciplinary clinic that places a high focus on investigation and comprehensive treatment.
Can you get an infection in the neck?
Infection and infections of the neck are very uncommon, but can occur rarely.
We remind you that an inflammation and an infection are two completely different things - if you get a severe inflammatory reaction with heat development, fever and pus in the area, then you most likely have an infection - and should then see a GP the same day for further investigation. and treatment.
Can one be dizzy because of the neck? I am both sore and dizzy.
When dizziness is caused by dysfunction of the muscles and joints of the neck, this is called cervical dizziness. Cervicogen means neck-related.
The answer is that one can be dizzy due to myalgia and joint restrictions in the neck. In case of persistent ailments, you should consult a clinic for examination and treatment.
Follow Vondt.net on YOUTUBE
(Follow and comment if you want us to make a video with specific exercises or elaborations for exactly YOUR issues)
Follow Vondt.net on FACEBOOK
(We try to respond to all messages and questions within 24-48 hours. We can also help you interpret MRI responses and the like.)