Physiotherapy is a professional practice performed by authorized physiotherapists. Physical therapy can provide relief and functional improvement in a variety of musculoskeletal disorders. Physiotherapy includes manual techniques, training, exercises and possible use of technical methods such as. TENS (power management). Treatment may vary based on clinic and clinic. A physiotherapist's main purpose is to increase function and relieve symptoms in musculoskeletal problems - this is done by the physiotherapist first taking a thorough history and clinical examination before setting up a treatment program based on the findings of this examination. The physiotherapy education consists of a 3-year college education with the following 1 year in shift service, which results in the protected title 'physiotherapist' upon completion of the education. Feel free to contact us at Facebook page our or the comments section at the end of the article if you have any comments, comments or questions regarding this form of treatment.
What does a physical therapist do?
The treatment that the patient receives is adapted to the individual's prehistory, medical history and daily form. Based on the patient's diagnosis and conditions, the physiotherapist will set up a treatment program consisting of manual treatment (eg soft tissue work, muscular techniques, power therapy and mobilization) and specific training exercises. The training exercises are intended to strengthen weak, dysfunctional muscle groups and areas in order to provide long-term improvement. Many physiotherapists also use dry needle / needle treatment / intramuscular acupuncture. It can be effective against a variety of musculoskeletal conditions. Among other things tennis elbow / lateral epicondylite.
The treatment will often be divided into two parts depending on the patient's diagnosis and general condition. If the patient is in a lot of pain, then of course the first treatments will primarily be about symptom relief and addressing the parts of the muscle and skeleton that cause pain and discomfort. When you have then conducted a little "firefighting" and got the worst symptoms under control, then of course much of the next focus will be on providing long-term improvement and function. It is something you can only achieve with the help of increased movement and specific training - something the physiotherapist can help you achieve.

- Functional movement is a key factor in a healthy and pain-free everyday life
Exercise is the best medicine - but sometimes it can be difficult for someone without an education in health sciences to understand how one should exercise to achieve the best function and results. The truth is that this is often very subjective and therefore it can be useful to go to a physiotherapist to set up an exercise program tailored just for you - for both preventive and function-promoting purposes.
There are 12 different approved specialty courses in physiotherapy. All physiotherapists have virtually the same general competence. If you are looking for someone who specializes in their own field, you might want to ask if they have any of the following titles:
Specialist in General Physiotherapy
manual Therapy (Specialist in Manual Therapy)
Pediatric Physiotherapy (Specialist in Pediatric Physiotherapy)
Neurological Physiotherapy (Specialist in Neurologic Physiotherapy)
Sports Physiotherapy (Specialist in Sports Physiotherapy)
Orthopedic Physiotherapy (Specialist in Orthopedic Physiotherapy)
Geriatric Physiotherapy (Specialist in Geriatric Physiotherapy)
Psychiatric and Psychomotor Physiotherapy (Specialist in Psychiatric and Psychosomatic Physiotherapy)
Oncological Physiotherapy (Specialist in Oncologic Physiotherap)
Rheumatologic Physiotherapy (Specialist in Rheumatologic Physiotherapy)
Cardiovascular Physiotherapy (Specialist in Cardio-Respiratory Physiotherapy)
Obstetric and Gynecologic Physiotherapy (Specialist in Obstetric and Gynecologic Physiotherapy)
In order to obtain a specialist title in physiotherapy, a master's degree must be completed within the individual subject, or approval must be obtained through other special requirements.
Massage and the like have been described in ancient history thousands of years ago, but the first documented, modern form of physiotherapy was the Swedish Per Henrik Ling. He founded the "Royal Center Institute of Gymnastics" in 1813 where emphasis was placed on massage and exercise. In 1887, the Swedish physiotherapists received public approval from the Swedish authorities. Not long after, the United Kingdom (Chartered Society of Physiotherapy, founded in 1894), New Zealand (School of physiotherapy at Otago University, 1913) and the United States (Reed College in Portland, 1914) followed. And it was thanks to this spread that knowledge about this form of treatment could develop and spread.
If you have any questions or similar about this article, it's great if you comment in the comments section below.
References:
- Fysio.no
- Wikimedia Commons
- Wikipedia
What can I do even against pain in muscles, nerves and joints?
1. General exercise, specific exercise, stretching and activity are recommended, but stay within the pain limit. Two walks a day of 20-40 minutes make good for the whole body and sore muscles.
2. Trigger point / massage balls we strongly recommend - they come in different sizes so you can hit well even on all parts of the body. There is no better self help than this! We recommend the following (click the image below) - which is a complete set of 5 trigger point / massage balls in different sizes:
3. Training: Specific training with training tricks of various opponents (such as this complete set of 6 knits of different resistance) can help you train strength and function. Knit training often involves more specific training, which in turn can lead to more effective injury prevention and pain reduction.
4. Pain Relief - Cooling: Biofreeze is a natural product that can relieve pain by cooling the area gently. Cooling is especially recommended when the pain is very severe. When they have calmed down then heat treatment is recommended - it is therefore advisable to have both cooling and heating available.
5. Pain Relief - Heating: Warming up tight muscles can increase blood circulation and reduce pain. We recommend the following reusable hot / cold gasket (click here to read more about it) - which can be used both for cooling (can be frozen) and for heating (can be heated in the microwave).
6. Prevention and healing: Compression noise like that like this can increase blood circulation to the affected area, thereby speeding up the natural healing of injured or worn muscles and tendons.
Recommended products for pain relief in pain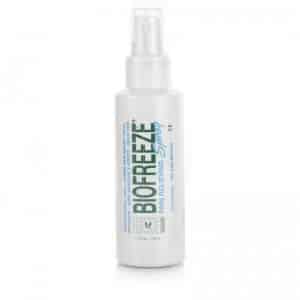 Biofreeze (Cold / cryotherapy)
Also read: - Physiotherapy can alleviate Chronic Fatigue Syndrome / ME
Questions about physiotherapy:
-
Follow Vondt.net on YOUTUBE
(Follow and comment if you want us to make a video with specific exercises or elaborations for exactly YOUR issues)
Follow Vondt.net on FACEBOOK
(We try to respond to all messages and questions within 24-48 hours. We can also help you interpret MRI responses and the like.)