Osteoarthritis (osteoarthritis) - Cause, treatment and measures
Osteoarthritis usually appears late in life. Osteoarthritis is defined as «slowly progressive monoarticular (or rarely, polyarticular) condition that can affect the hands and the large weight-bearing joints.Osteoarthritis comes from the Greek word "arthrosis" which means joint. When you talk about osteoarthritis, this means joint wear in most conversations. Scroll down to see more exercise videos with exercises that can relieve pain and malfunction due to osteoarthritis.
TIP: Many people with osteoarthritis and arthritis like to use specially adapted compression gloves (link opens in new window) for improved function in hands and fingers. These are especially common among rheumatologists and those who suffer from chronic carpal tunnel syndrome. Possibly there is also toe pullers og specially adapted compression socks if you are bothered by stiff and sore toes - possibly hallux valgus (inverted big toe).
Also read: 15 Early Signs of Rheumatism
VIDEO: 5 Cloth Exercises Against Spinal Stenosis (Narrow Nervous Conditions in the Back)
Osteoarthritis (osteoarthritis) can cause tighter conditions in the back that can cause episodic nerve irritation. Such tight nerve conditions are also known as spinal stenosis.
These five exercise and stretching exercises can help you maintain your mobility in the back and thus relieve pinched nerves. Click below to see the exercises.

Join our family and subscribe to our YouTube channel for free exercise tips, exercise programs and health knowledge. Welcome!
VIDEO: 5 Strength Exercises Against Narrow Nervous Conditions in the Back Due to Osteoarthritis
It is also important to increase the strength of the deeper back muscles to relieve your back joints. In the video below you can see five strength exercises that can help you get a stronger back and thus also prevent further deterioration. The exercise program should be done four times a week for optimal effect.
Did you enjoy the videos? If you took advantage of them, we would really appreciate you subscribing to our YouTube channel and giving us a thumbs up on social media. It means a lot to us. Thank you very much!
Cause: Why did I have osteoarthritis?
Osteoarthritis, also known as osteoarthritis or osteoarthritis, is caused by normal wear of joints and cartilage - but having said that, it is certain joint diseases and arthritis that can cause osteoarthritis at an earlier age. Of course, there are also certain risk factors for developing osteoarthritis as mentioned later in the article. Cartilage is that bit of joint which lies as a protective layer around the end of the leg. In case of heavy wear, this cartilage can be broken down gradually and you risk getting bone to bone contact in the joint.
Where is it most common to get osteoarthritis?
Osteoarthritis is usually developed in weight-bearing joints such as knees, neck, hofter and the lower part of the lower back. But it is so All joints can be affected by osteoarthritis.
Also read: So can Exercise in Hot Water Pool against Fibromyalgia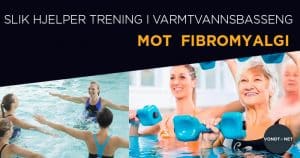 What is the difference between osteoarthritis and arthritis?
Osteoarthritis is normal joint wear. Arthritis indicates that we also have an inflammatory process in the joint, such as in rheumatoid arthritis. Some typical symptoms of arthritis are redness of the skin around the joint, clearly swelling og significantly reduced joint movement.
What are the risk factors for osteoarthritis?
Increased load can increase the chance of osteoarthritis / joint wear. High body weight increases the risk of osteoarthritis in weight-bearing joints such as the hip, neck and knees. Generally high load or injury from sports and work can also speed up any osteoarthritis, and for example, handball players tend to develop osteoarthritis of the knees due to injuries and repetitive strain on hard surfaces.
X-ray osteoarthritis:
According to «Compendium on Rheumatology»From 1998, half of those over 65 have osteoarthritis on X-ray examination. When the age rises above 75 years, 80% have osteoarthritis findings on X-rays.
Also read: The 5 Stages of Osteoarthritis (How To worsen Osteoarthritis)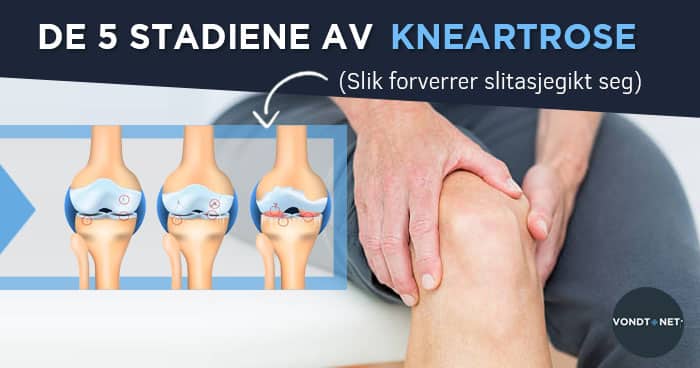 What Are Common Osteoarthritis Symptoms?
Joint wear can cause symptoms in the joints in the form of joint stiffness og joint pain. One also experience soreness around the affected joint and sometimes also 'muscular guarding' in the form of tight muscles / trigger points as a result. Reduced joint movement is also common. Sometimes with significant osteoarthritis it can also be experienced as if the legs rub against each other due to lack of cartilage, so-called 'bone grinding'. Another thing that can occur in moderate to significant osteoarthritis is that the body puts down extra legs, so-called 'bone spurs'.
When it comes to osteoarthritis, it is best to notwidow preventive. It is difficult to do anything especially when the osteoarthritis is there first. If you are overweight you should try to lose weight as this will reduce the load on weight bearing joints. Specific training can also help delay any osteoarthritis. Joint mobilization performed by a chiropractor or manual therapist also has a proven clinical effect:
«A meta-study (French et al, 2011) showed that manual treatment of hip osteoarthritis had a positive effect in the form of pain relief and functional improvement. The study concluded that manual treatment is more effective than training in the treatment of osteoarthritis. "
Glucosamine sulfate in combination with chondroitin sulfate (Read: 'Glucosamine sulfate against wear?') have also shown effect on moderate osteoarthritis of the knees in a larger collection study (Clegg et al., 2006).
The conclusion was:
"Glucosamine and chondroitin sulfate alone or in combination did not reduce pain effectively in the overall group of patients with osteoarthritis of the knee. Exploratory analyzes suggest that the combination of glucosamine and chondroitin sulfate may be effective in the subgroup of patients with moderate-to-severe knee pain. "
A statistically significant improvement of 79% (in other words, 8 out of 10 improved) was seen in the group of moderate to severe (moderate-to-severe) knee pain due to osteoarthritis, but unfortunately this was of little importance when the results of this study were published. in the media. Among other things, the study was mentioned in the Journal of the Norwegian Medical Association 9/06 under the heading "Glucosamine has no effect on osteoarthritis", although it had a statistically significant effect on a subgroup in the study.
Also read: 8 Natural Anti-inflammatory Measures Against Rheumatism
One can question whether the author of the article had only relied on the articles in the daily press or read only half the study conclusion. Here is the evidence that glucosamine in combination with chondroitin sulfate has a statistically significant effect compared to placebo:
Explanation: In the third column we see the effect of glucosamine + chondroitin in combination versus the effect of placebo (sugar pills). The effect is significant as the dash (bottom of the third column) does not cross 1.0 - if it had crossed 1 this indicates zero statistical significance and the result is thus invalid.
We see that this is not the case with the combination glucosamine + chondroitin in the treatment of knee pain within the subgroup with moderate to severe pain, and questions why this has not been given more focus in relevant journals and daily press.
Recommended Self-Help for Rheumatic and Chronic Pain
Mini tapes (many with rheumatic and chronic pain feel that it is easier to train with custom elastics)
Trigger point Balls (self-help to work the muscles on a daily basis)
Arnica cream or heat conditioner (many people report some pain relief if they use, for example, arnica cream or heat conditioner)
- Many people use arnica cream for pain due to stiff joints and sore muscles. Click on the image above to read more about how arnica cream can help relieve some of your pain situation.
Exercises against osteoarthritis in the hip
Exercise of stability muscle can help the body to relieve joints and intervertebral discs. By training both strength in nearby muscles, as well as regularly performing movement exercises - such as those shown below - you can maintain good blood circulation and muscular elasticity. We recommend that you try to do these, or similar, exercises daily.
VIDEO: 7 Exercises against Osteoarthritis / Wear in the Hip and Back
Feel free to subscribe our YouTube channel (click here) for more free exercise programs and health knowledge.
Read more: - How Yoga Can Relieve Fibromyalgia And Chronic Pain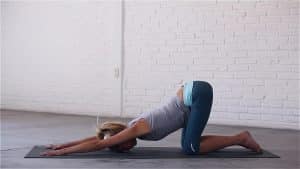 Osteoarthritis of the hip - Coxarthrosis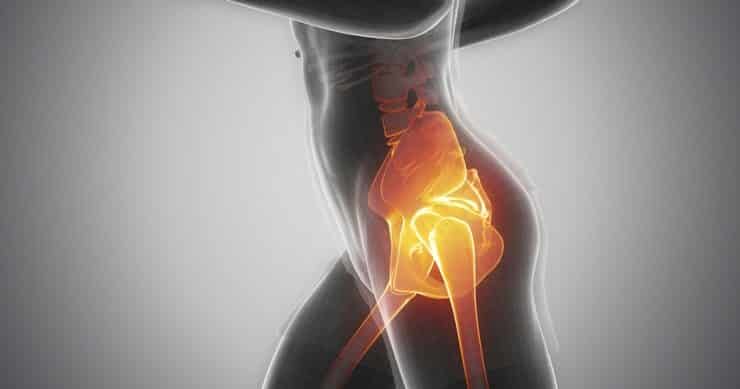 Read the main article about osteoarthritis of the hip here (click here or the image above to open the main hip osteoarthritis article).
What Is Hip Arthritis?
The hip joint consists of the hip socket, which is part of the pelvic bone, and the femur of the femur. Both the hip socket and the hip ball are "clad" with smooth cartilage which ensures that movements take place with the least possible resistance.
Osteoarthritis (osteoarthritis) of the hip is, as the name suggests, wear and tear changes in the hip joint, usually caused by old age. Clinicians sometimes use the term coxarthrosis. Medical history and findings at the medical examination will give strong suspicion of the diagnosis, and it can be confirmed by an X-ray examination.
The hip joint is the joint in the body where osteoarthritis occurs most frequently. Elderly patients often see x-ray wear, but only a small proportion of these patients have symptoms. So osteoarthritis detected on X-ray does not mean major ailments. 90% of patients over the age of 65 who complain of hip pain have osteoarthritis of the hip joint. Each year, approx. 6.500 hip prostheses in Norway, of which 15% are reoperations.
Causes
Osteoarthritis is a debilitating condition that destroys and breaks down the joint. In the beginning, it is the articular cartilage that is destroyed. The smooth surface between the hip socket and the femur of the femur will eventually become uneven. When walking, "frictions" occur in the joint, which causes pain. Eventually there will be calcifications, mobility will be poorer and the joint will become stiffer.
There is a distinction between primary (age-related) and secondary hip joints. The following conditions increase the chance of having secondary osteoarthritis of the hip: obesity, previous hip or femur fractures, congenital malformations of the hip and inflammation of the hip joint.
Symptoms
Pain gradually develops in the groin and front and side of the thigh. The pain often radiates down to the knee. The pain often comes when you start to walk. They become less intense after walking for a few seconds or minutes, but then get worse after a while. A lot of stress on the legs increases the pain. Gradually, pain develops at rest and at night. At night pain the condition has come a long way. Walking distance becomes shorter, patient slips and must use cane.
NEXT PAGE: - The 5 Stages of Kneartrose (How Aggravated Osteoarthritis worsens)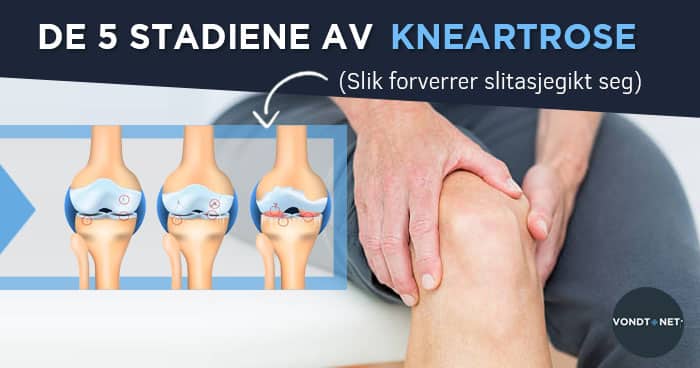 Click on the image above to proceed to the next page. Otherwise, follow us on social media for daily updates with free health knowledge.
Follow Vondt.net on YOUTUBE
(Follow and comment if you want us to make a video with specific exercises or elaborations for exactly YOUR issues)
Follow Vondt.net on FACEBOOK
(We try to respond to all messages and questions within 24-48 hours. We can also help you interpret MRI responses and the like.)
Frequently Asked Questions About Osteoarthritis
Feel free to ask us a question in the comments section below or via our social media.
Sources:
French, HP. Manual therapy for osteoarthritis of the hip or knee - a systematic review. Man Ther. 2011 Apr; 16 (2): 109-17. doi: 10.1016 / j.math.2010.10.011. Epub 2010 Dec 13.
«Compendium on Rheumatology», 1997-98. Department of Rheumatology, Haukeland Hospital. Novartisserien, faghefte nr.1, 1997. Professor Hans-Jacob Haga.
Clegg DO, Reda DJ, Harris CL, Klein MA, O'Dell JR, Hooper MM, Bradley JD, Bingham CO 3rd, Weisman MH, Jackson CG, Lane NE, Cush JJ, Moreland LW, Schumacher HR Jr, Oddis CV, Wolfe F, Molitor JA, Yocum DE, Schnitzer TJ, Furst DE, Sawitzke AD, Shi H, Brandt KD, Moskowitz RW, Williams HJ. Glucosamine, chondroitin sulfate, and the two in combination for painful knee osteoarthritis. N Engl J Med. 2006 Feb 23; 354 ​​(8): 795-808.
Frequently Asked Questions:
What is another word for knee wear?
Another word for knee wear is knee osteoarthritis. Osteoarthritis means wear and tear in joints and cartilage. This wear may be age-related or in more rare cases trauma-related (osteoarthritis can develop more quickly in an injured joint - for example, handball players have an increased incidence of knee wear).
What are the causes of osteoarthritis of the joints?
You will find the explanation and information about the causes of osteoarthritis in the joints under the section 'cause' later in the article.
What do osteoarthritis and nitric oxide have to do with each other? Can nitric oxide treat osteoarthritis?
Nitric oxide is a toxic gas formed during the metabolism of L-arginine by nitric oxide synthesis (NOS). Increased presence of nitric oxide can be seen in osteoarthritis and joint wear. When ingesting NG-monomethyl-t-arginine, a decrease in nitric oxide has been seen and thus less damage and inflammation in the areas (read more here ). No, nitric oxide cannot treat osteoarthritis.
Can you get osteoarthritis of the hip due to work?
Yes, you can develop osteoarthritis of the hip at work - especially occupations that put a lot of weight on the hip joints have increased the incidence of joint wear and osteoarthritis. As mentioned earlier in the article:
High body weight increases the risk of osteoarthritis in weight-bearing joints such as the hip, neck and knees. Generally high load or injury from sports and work can also speed up any osteoarthritis, and for example, handball players tend to develop osteoarthritis of the knees due to injuries and repetitive strain on hard surfaces.