rheumatism
Rheumatism is an umbrella term that involves conditions that cause chronic pain in the joints and connective tissue.
There are over 200 varieties of rheumatism.
As mentioned, joints, connective tissue and muscles are most often affected by rheumatism, but it is important to know that rheumatic diagnoses can also affect the skin, lungs, mucous membranes and other organs. - it depends on what kind of rheumatic diagnosis it is. Feel free to contact us on our Facebook page if you have input or comments.
Affected? Join the Facebook group «Rheumatism - Norway: Research and news»For the latest updates on research and media writing about this disorder. Here, members can also get help and support - at all times of the day - through the exchange of their own experiences and advice.
Bonus: At the bottom of the article you will find a training video with exercises adapted for those with soft tissue rheumatism.
Different types of rheumatism?
Previously, before research and recent knowledge have given us better insight into what rheumatism really means, rheumatism was almost generalized and 'brought under a comb' - but now you know that it is important to find out what kind of rheumatism it is about, so that you can get optimal treatment and help.
We usually distinguish between non-autoimmune and autoimmune rheumatic diagnoses. The fact that a rheumatic diagnosis is autoimmune means that the body's own immune system attacks its own cells. An example of this is Sjögren's disease, where white blood cells attack the lacrimal glands and salivary glands, which in turn leads to dry eyes and dry mouth.
Autoimmune Rheumatic Disorders?
As mentioned, rheumatic disorders can also be autoimmune. Some of the most common forms of autoimmune rheumatic disorders are systemic lupus erythematosus, rheumatoid arthritis (arthritis), juvenile arthritis, Sjögren's syndrome, scleroderma, polymyositis, dermatomyositis, Behcets disease, Reiter's syndrome and psoriatic arthritis.
The 7 best known forms of rheumatism
It is true that some forms of rheumatic disorders are more well-known and widespread in the Norwegian population - both in terms of general level of knowledge, but also to the extent that people are affected. Perhaps the most well-known diagnoses are rheumatoid arthritis (arthritis), Ankylosing spondylite (formerly known as Bechterews), Fibromyalgia (Bløtvevsrevmatisme) Osteoarthrtitis (Osteoarthritis), gout, lupus og Sjögren's disease.
General symptoms of rheumatism
Pain or pain - usually seen in or near one or more joints

Pain when moving the affected area

Pressure relief by touch or palpation

Stiffness and reduced mobility - especially after periods of sitting still

Symptom relief by light exercise / activity, but worsening by hard exercise

Aggravated symptoms of weather changes. Especially when lowering the barometric air pressure (against low pressure) and increased humidity

Relief when heating the affected area. Eg. by a hot bath.
We note that not all rheumatic disorders have these symptoms, and that many rheumatic diagnoses also have their own, more specific symptoms. However, it is common for people with rheumatism to report at least four of the seven symptoms mentioned above. The typical described pain of rheumatism is 'deep, aching pain'.
Other symptoms that may occur include:
Anemia (Low blood percentage)
movement Difficulties (Walking and general movement can be difficult and painful)
Diarrhea (Often associated with intestinal inflammation)
Bad condition (Often a secondary effect due to lack of movement / exercise)
Bad sleep (Reduced sleep quality and awakening is a fairly common symptom)
Poor dental health and gum problems
Changes in blood pressure
Fever (Inflammation and inflammation can cause fever)
Swelling
Reap
High CRP (Indication of infection or inflammation)
High pulse
Cold hands
Itching
Low metabolism (eg in combination with Hashimoto's thyroiditis)
stomach Problems (Inflammation processes can contribute to stomach problems and abdominal pain)
Less flexibility (Less mobility in joints and muscles)
period cramps (Arthritis and arthritis may be affected by hormonal factors)
Dry Mouth (Often associated Sjögren's disease)
morning Stiffness (Many forms of arthritis can cause stiffness in the morning)
Muscle weakness (Arthritis / arthritis can lead to muscle loss, muscle damage and decreased strength)
Overweight (Often a secondary effect due to inability to move)
Back pain
Dizziness (Dizziness can occur in a variety of forms of arthritis and joint conditions, which can be secondary to tight muscles and stiff joints)
Intestinal Problems
fatigue
Exhaustion (Due to ongoing processes in the body, people with arthritis can often feel exhausted and very tired)
Rash
Weight Loss (Involuntary weight loss may occur in arthritis)
Soreness and hypersensitivity (Increased tenderness of touch that should not really be painful may occur in arthritis / arthritis)
Eye Inflammation
Taken together or alone, these symptoms can lead to a significantly reduced quality of life and functioning.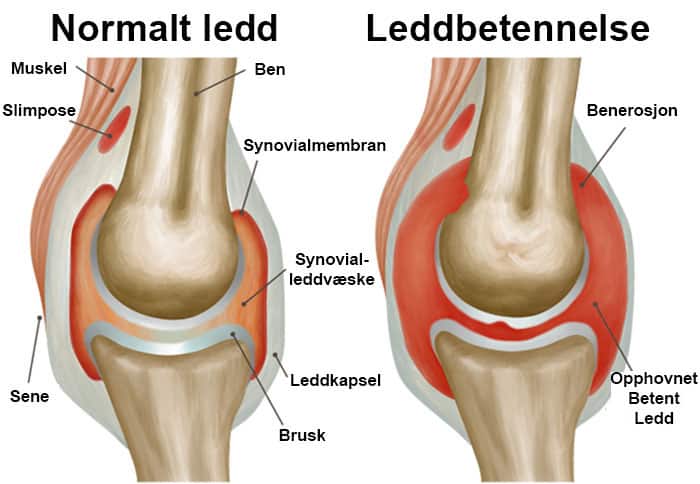 Treatment of rheumatism and arthritis
There is no direct cure for rheumatism and arthritis, but there are both symptom relief and dysfunctional measures - such as physical therapy, physiotherapy, custom chiropractic treatment, lifestyle changes, dietary advice, medical treatment, supports (eg compression gloves) and surgery / surgical intervention.
Tips: A simple and everyday change for many is the use of specially adapted compression gloves og compression socks (the links open in a new window) - these can in fact contribute to increased blood circulation to stiff fingers and sore hands, and thus help to maintain functionality in everyday life.
List of various treatment methods often used for rheumatism
- Electrical Treatment / Current Therapy (TENS)
- Electromagnetic processing
- Physical treatment and physiotherapy
- Low-dose laser treatment
- Lifestyle changes
- Chiropractic joint mobilization and chiropractic
- Dietary advice
- Cold treatment
- Medical treatment
- Operation
- Support of joints (eg rails or other forms of joint support)
- Sick leave and reste
- Heat treatment
Electrical Treatment / Current Therapy (TENS)
A large systematic review study (Cochrane, 2000) concluded that power therapy (TENS) was more effective in pain management of knee arthritis than placebo.
Electromagnetic treatment of arthritis / arthritis
Pulsed electromagnetic therapy has proven effective against arthritis pain (Ganesan et al, 2009).
Physical treatment and physiotherapy in the treatment of arthritis / arthritis
Physical treatment can have a good effect on affected joints and can also lead to increased function, as well as improved quality of life. Adapted exercise and exercise are generally recommended to maintain joint health and the person's overall health.
Low-dose laser treatment
Studies have shown that low-dose laser (also called anti-inflammatory laser) can work at reducing pain and improving function in the treatment of arthritis and osteoarthritis. The research quality is relatively good.
Lifestyle changes and arthritis
Helping to keep one's weight, exercising properly and not least eating right can be very important for the quality of one affected by arthritis.
For example, increased weight and overweight can lead to even greater stress for the affected joint, which in turn can lead to more pain and poorer function. Otherwise, those with arthritis are often advised to stop smoking tobacco products, as this is linked to poorer blood circulation and repair ability.
Manual Joint Mobilization and Chiropractic at Arthritis
Customized joint mobilization has shown that joint mobilization performed by chiropractor (or manual therapist) has a proven clinical effect:
"A meta-study (French et al, 2011) showed that manual treatment of hip osteoarthritis had a positive effect in terms of pain relief and functional improvement. The study concluded that manual therapy is more effective than exercise in the treatment of arthritis disorders. "
Dietary advice for arthritis
Given that inflammation (inflammation) is often involved in this diagnosis, it is important to focus your food intake on anti-inflammatory food and diet - and not least avoid pro-inflammatory temptations (high sugar content and low nutritional value).
Glucosamine sulfate in combination with chondroitin sulfate (Read: 'Glucosamine sulfate against wear?') has also shown an effect against moderate osteoarthritis of the knees in a larger pooled study (Clegg et al, 2006). In the list below, we have divided foods that you should eat and foods you should avoid if you have arthritis / arthritis.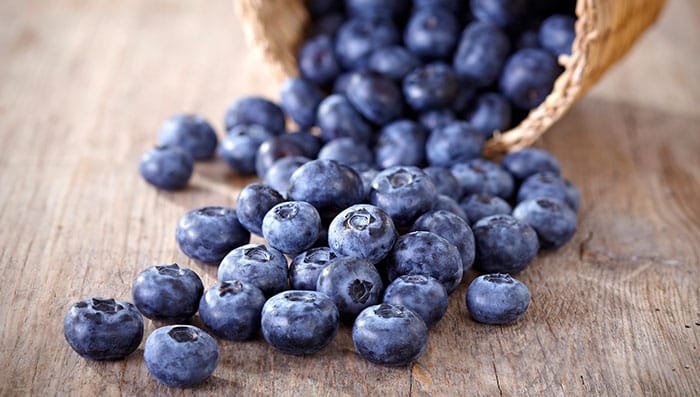 Foods that fight inflammation (foods to eat):
Berries and fruits (e.g., orange, blueberries, apples, strawberries, cherries and goji berries)
Bold fish (eg salmon, mackerel, tuna and sardines)
turmeric
Green vegetables (eg spinach, cabbage and broccoli)
Ginger
Coffee (its anti-inflammatory effect can help fight inflammation)
Nuts (eg almonds and walnuts)
Olive oil
Omega 3
tomatoes
To conclude a bit about foods that should be eaten, one could say that the diet should be aimed at a so-called Mediterranean diet, which has a high content of fruits, vegetables, nuts, whole grains, fish and healthy oils.
Of course, such a diet will have many other positive effects - such as more control over weight and a generally healthier everyday life with more energy.
Foods that increase inflammatory reactions (foods to avoid):
Alcohol (e.g. beer, red wine, white wine and spirits)
Processed meat (e.g. non-fresh burger meat that has gone through several such preservation processes)
Brus
Deep-fried food (french fries and the like)
Gluten (many people with arthritis react negatively to gluten)
Milk / lactose products (Many believe that milk should be avoided if you are affected by arthritis)
Refined carbohydrates (eg light bread, pastry and similar baking)
Sugar (High sugar content can promote increased inflammation / inflammation)
The aforementioned food groups are thus some of the ones that should be avoided - as these can aggravate the arthritis and arthritis symptoms.
Cold treatment and arthritis (arthritis)
On a general basis, it is recommended to treat colds in the symptoms of arthritis. This is due to the fact that cold calms down inflammatory processes in the area. However, it is worth mentioning that not everyone responds well to this.
Massage and arthritis
Massage and muscle work can have a symptom-relieving effect on tight muscles and stiff joints.
Medication and arthritis / arthritis medications
There are a number of medications and medications that are designed to treat arthritis and arthritis symptoms. The most common procedure is to start with the drugs that have the least negative side effects and then try stronger medicines if the first ones do not work properly.
The type of medication used varies depending on the type of arthritis / arthritis that the person is afflicted with. Common painkillers and medications come in pill form and as tablets - some of the most common ones used are paracet (paracetamol), ibux (ibuprofen) and opiates.
In the treatment of rheumatic arthritis, a so-called anti-rheumatic drug called Methotrexate is also used - this simply works directly against the immune system and leads to a later progression of this condition.
Arthritis / arthritis surgery
In certain forms of erosive arthritis, ie arthritis conditions that break down and destroy joints (eg rheumatic arthritis), it may be necessary to replace the joints if they become so damaged that they no longer function.
Of course, this is something you do not want and should be a last resort because of the risks of surgery and surgical procedures, but which may be extremely necessary in some cases.
For example, hip and knee prosthetic surgery is relatively common due to arthritis, but unfortunately is no guarantee that the pain will disappear. Recent studies have cast doubt on whether surgery is better than just exercise - and some studies have also shown that customized training can be better than surgical intervention.
In many cases, cortisone will be tested before going to the drastic operation.
Sick leave and arthritis
In the blossoming phase of arthritis and arthritis, sick leave and rest may be necessary - often in combination with treatment. Sickness progress will vary and it is impossible to say anything specific about how long arthritis will be sickly reported.
It is NAV that is the organizing body together with sick leave. If the condition worsens, this can cause the person to be unable to work, become disabled, and then dependent on the disability benefit / disability pension.
Heat treatment and arthritis
On a general basis, it is recommended to treat colds in the symptoms of arthritis. This is due to the fact that cold calms down inflammatory processes in the area - heat can work on the opposite basis and increase the inflammation process towards the affected joint.
That being said, it is often recommended to use heat on nearby muscle groups for symptom relief of tight, sore muscles. Of course, this does not mean that arthritis and the south do not go hand in hand - but the effect of warmer strokes aimed at arthritis and arthritis probably works on many levels which contributes to increased physical and mental well-being.
Exercises and training for those with Rheumatism
Adapted training in hot water pool, with exercise bands or low impact load can be very beneficial for those with rheumatism - and is highly recommended. Trips on rough terrain are also a good way to stay in shape. We also recommend performing daily stretching and movement exercises - as shown in the video below.
VIDEO: 17 Exercises against Polymyalgia Rheumatism
Polymyalgia rheumatica is a rheumatic disorder characterized by inflammatory reactions, and pain in the neck, shoulders and hips. In the video below, chiropractor and rehabilitation therapist Alexander Andorff shows 3 different training programs - one for each of the most common areas - with a total of 17 exercises.
VIDEO: 5 Movement Exercises for Those with Fibromyalgia
Knowing adapted exercise exercises adapted to those with fibromyalgia is very important. The video below shows five gentle exercises that can help you maintain mobility, circulation and relieve pain.
Join our family and subscribe to our YouTube channel (click here) for free exercise tips, exercise programs and health knowledge. Welcome!
Also read: 7 Exercises for Rheumatics
Do you have questions about the article or do you need any more tips? Ask us directly via our facebook page or via the comment box below.
Share Feel free to increase the knowledge of Rheumatism
Knowledge among the general public and health professionals is the only way to increase focus towards the development of new assessment and treatment methods for rheumatic pain diagnoses. We hope you take the time to share this further in social media and say thanks in advance for your help. Your sharing means a great deal to those affected.
Feel free to press the button above to share the post further. Sincere thanks to all who share.

Click on the image above to proceed to the next page.
Recommended Self-Help for Rheumatism
Use of Compression Noise (The link opens in a new window).
Use of Arnica cream (which this one) or heat conditioner against sore joints and muscles.
Please support our work by following us and sharing our articles on social media:
- Please follow Vondt.net on YOUTUBE
- Please follow Vondt.net on FACEBOOK
Photos: Wikimedia Commons 2.0, Creative Commons, Freestockphotos and submitted reader contributions.