Tormented with a sore back? Here are 8 good exercises for the back that give more muscle strength, less pain and better function. Feel free to share with someone you know who has a bad back.
In combination with these exercises, we recommend increasing your daily exercise, for example in the form of walking in rough terrain or swimming. If you already have a diagnosis, we recommend that you check with your clinician (doctor, chiropractor, physiotherapist or similar) whether these exercises are suitable for you. Remember that you will also find several exercise programs on our YouTube channel (opens in new window) - and that you can watch videos of the exercises further down in the article.
1. «Folding knife» on therapy ball
This is an exercise that is very kind to the discs and vertebrae in the back. At the same time, it is very heavy and effective for the core muscles. This is an exercise that you must gradually get used to, especially if you are not used to exercising this way. If you find it difficult to do more repetitions, we advise you to start with as many as you can - and then gradually increase the number of repetitions as you get stronger.
A: Starting position for the exercise. Start with the legs of the therapy ball and your hands in the ground, as if you were pushing.
B: Slowly pull the ball under you. Then slowly return to the starting position.
The exercise is carried out with 8-10 repetitions over 3-4 sets.
2. "Monster walks" with elastic
"Monster walks" are a brilliant exercise for the knees, hips and pelvis. It combines what we have learned, and used, in the previous 5 exercises in a good way. After only a short time with this exercise, you will feel that it burns deep in the seat. For this exercise we recommend a Perform Better training tram (rose or green).
Find an exercise band (preferably adapted for this type of exercise - feel free to check our online store or ask us directly) that can be tied around both ankles as in a large circle. Then stand with your feet shoulder-width apart so that there is good resistance from the strap to your ankles. Then you should walk, while working to keep your legs shoulder-width apart, a bit like Frankenstein or a mummy - hence the name. The exercise is performed in 30-60 seconds over 2-3 sets.
3. Stretching of hamstrings and seat
The purpose of this exercise is to gain more flexibility in the hamstring muscles - muscles that are known to contribute to back problems if they are too tight. Lie flat on the floor with your back down, preferably on a training mat with support under your neck.
Then bend one leg toward the chest and then grip the back of the thigh with both hands. Stretch your leg in a controlled, calm motion, while pulling your leg toward you. Keep the clothing exercise for 20-30 seconds while taking deep breaths. Then bend your knee back and return to the starting position. Alternatively you can use a towel or the like to get extra stretch to the back of the thigh.
Repeat the exercise 2-3 times on each side.
4. Bridge
It is quickly made to forget how important the seat muscles are for both hip and knee stability. Strong gluteal muscles reduce pressure and strain on the back.
The bridge is done by lying on your back with your legs bent and your feet flat on the ground, with your arms resting along the side. Your back should be in a neutral curve. Feel free to warm up the seat by performing some light exercises - where you simply tighten the seat muscles, hold it for about 5 seconds and release again. This is an activation exercise that tells the muscles that you plan to use it soon - which in turn can lead to more proper use during exercise, and reduce the chance of muscle damage. When you're ready, do the exercise by pulling the seat muscles together, before lifting the pelvis and hip up against the ceiling. Make sure you perform the exercise by pressing through the heels. Raise the pelvis to the back is in a neutral position, not over-curved, and then slowly lower back to the starting position. The exercise is performed 8-15 repetitions, about 2-3 sets.
5. Yoga Exercise: Urdhvamukhasvanasana (Scouting dog position)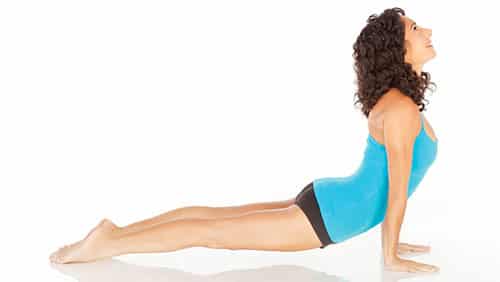 This yoga position opens up the chest, stretches the abdominal muscles and activates the back in a good way. Start by lying flat on the floor with your palms down the floor approximately in the middle of the ribs. Then pull your legs together and press the top of your feet pressed against the floor - at the same time use the force from your back, not your hands, to lift your chest off the floor - you should feel that it stretches slightly in the back - make sure you do not take in too much . Keep your legs straight and hold the position for 5 to 10 deep breaths. Repeat as many times as you think is necessary.
Lying stretch of the seat and lower back
This exercise stretches the gluteal muscles and piriformis - the latter is a muscle that is often involved in back pain and pelvic pain. Lie flat on the floor with your back down, preferably on an exercise mat with support under your neck. Then bend the right leg and place it over the left thigh. Then grab the left thigh or right leg and gently pull towards you until you feel that it stretches deep on the back of the thigh and the gluteal muscles on the side that you stretch. Hold the strain for 30 seconds. Then repeat on the other side. Performed over 2-3 sets on each side.
7. Back lift
Back lifting is one of the few exercises that has proven effect on causing hypertrophy (greater muscle mass) in the lumbar multifids. The multifids have become more and more recognized as some of the most important, injury-preventing back muscles we have. They are also called deep, paraspinal muscles, which reflects that they sit at the bottom of the spine - and thus in many ways is considered our first defense against acute back problems.
reps: 5 reps x 3 sets or 10 reps x 3 sets (see how many you manage and then select one of the sets).
8. Leg to chest (exercise for lower back and seat)
This exercise aims to increase the movement of the lower back and stretch the muscles of the seat and lower back. Lie flat on the floor with your back down, preferably on a training mat with support under your neck. Pull your legs up against you until they are in a bent position.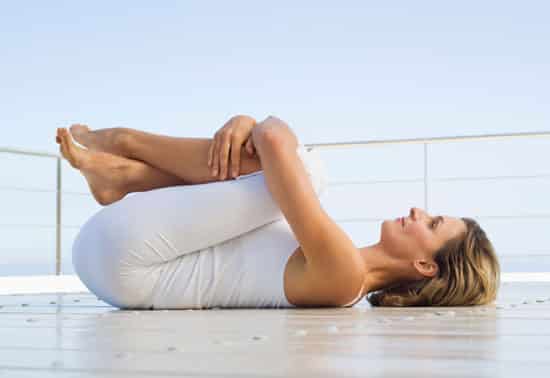 Then bend one leg up against you until you feel it stretch gently in the seat and lower back. Hold the stretch for 20-30 seconds and repeat 3 times on each side.
Alternatively, you can bend both legs up to the chest - but we recommend using it only when you have less pain, as it puts slightly higher pressure on the discs in the lower back.
BONUS EXERCISES - «cooldown»: 4 Stretching exercises against Stiff Back
In the video below, we present four stretching exercises for stiff and sore backs. Exercises that are gentle and adapted to you with back pain in everyday life. These are great for a cooldown after you have been on a walk or exercise - or you can use them to "get your back going" in the morning, if you are bothered by morning stiffness. You can watch the video by clicking on the image below - and you can also find more such training programs on our YouTube channel (Vondt.net).
VIDEO: 4 Clothes Exercises Against Stiff Back (watch video below)

YouTube: Feel free to subscribe to ours YouTube channel. Here you get good exercise programs and health tips. In this video you can see four good stretching exercises for stiff backs - with explanations.
Feel free to contact us at YouTube or Facebook if you have any questions or similar regarding exercise or your muscle and joint problems.
- Did you know that your lower back looks like this on an MRI?

What can I do even for back pain?
1. General exercise, specific exercise, stretching and activity are recommended, but stay within the pain limit. Two walks a day of 20-40 minutes make good for the whole body and sore muscles.
2. Trigger point / massage balls we strongly recommend - they come in different sizes so you can hit well even on all parts of the body. There is no better self help than this! We recommend the following (click the image below) - which is a complete set of 5 trigger point / massage balls in different sizes:
3. Training: Specific training with training tricks of various opponents (such as this complete set of 6 knits of different resistance) can help you train strength and function. Knit training often involves more specific training, which in turn can lead to more effective injury prevention and pain reduction.
4. Pain Relief - Cooling: Biofreeze is a natural product that can relieve pain by cooling the area gently. Cooling is especially recommended when the pain is very severe. When they have calmed down then heat treatment is recommended - it is therefore advisable to have both cooling and heating available.
5. Pain Relief - Heating: Warming up tight muscles can increase blood circulation and reduce pain. We recommend the following reusable hot / cold gasket (click here to read more about it) - which can be used both for cooling (can be frozen) and for heating (can be heated in the microwave).
Recommended products for pain relief for back pain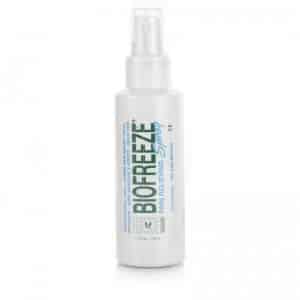 Biofreeze (Cold / cryotherapy)
NEXT PAGE: - Backache? You should know this!
Click on the image above to proceed to the next page.
Please support our work by following us and sharing our articles on social media:
- Please follow Vondt.net on YOUTUBE
(Follow and comment if you want us to make a video with specific exercises or elaborations for exactly YOUR issues)
- Please follow Vondt.net on FACEBOOK
(We try to respond to all messages and questions within 24-48 hours)
Photos: Wikimedia Commons 2.0, Creative Commons, Freestockphotos and submitted reader contributions.
https://usercontent.one/wp/www.vondt.net/wp-content/uploads/8-øvelser-for-dårlig-rygg.jpg?media=1648573622
443
700
hurt
https://usercontent.one/wp/www.vondt.net/wp-content/uploads/logo-website.png?media=1648573622
hurt
2016-09-23 01:40:09
2020-06-20 19:42:55
8 exercises for back pain